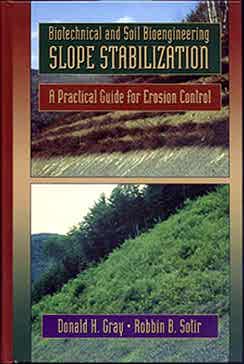 Biotechnical and Soil Bioengineering Slope Stabilization:
A Practical Guide for Erosion Control describes how woody plants and structural-mechanical systems are integrated in a structurally and environmentally sound and cost-effective manner to repair and protect slopes against shallow-mass wasting and surface erosion. Soil Bioengineering measures such as live stake, live fascine, brushlayer, live cribwall, vegetated geogrid, branchpacking, and live slope grating are described in detail. Plant selection, harvesting, handling and plant care in soil bioengineering construction installations are also covered. Numerous photographs and illustrations accompany written descriptions throughout the book.
The book further describes biotechnical methods that incorporate live vegetation into earth retaining structures and protective ground covers. These include the conjunctive use of vegetation in erosion control blankets, flexible mats, cellular revetments (geocells), rock armor (riprap), gabions, and open-front cribwalls. The role and function of woody plants in stabilizing slopes against both superficial erosion and mass movement is documented and explained. Several case studies of applications that entail the use of soil bioengineering and biotechnical slope protection measures have been incorporated, as well as a review of future developments in this evolving interdisciplinary field.
Available on Amazon
Robbin B. Sotir & Associates, Inc.
3221 Stoney Acres Drive
Kennesaw, Georgia 30152
Phone: 770-424-0719
sotir@sotir.com
©2020 Robbin B. Sotir & Asociates, Inc.