Case Study: Massachusetts Turnpike Mile Mark 79
Location: Charlton, Massachusetts
Client: Massachusetts Turnpike Authority
Objectives: Reconstruct a failed slope at a highly steepened configuration and improve aesthetics along a major scenic traffic corridor.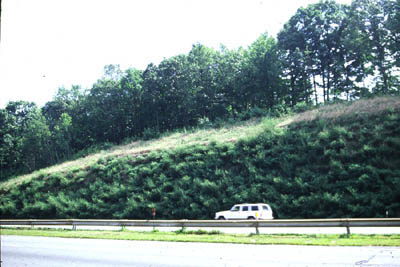 460 feet long
50 feet high at highest point @ 4V:1H slope
Slope stability concerns
Historical slope failures caused by groundwater seepage and freeze thaw conditions
Glacial till material
Constricted construction zone along highway with narrow right-of way
Complete loss of vegetation due to failures and construction activities
Nature of Firm's Resonsibility
Serving as the soil bioengineering consultant to the lead engineering firm Haley & Aldrich, Inc., Robbin B. Sotir & Associates, Inc. performed :
Site analysis, design (plan & specification preparation)
Pre-bid/pre-construction meetings
Vegetation reconnaissance
On-site construction observation
Evaluation and monitoring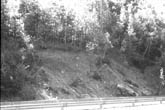 The Massachusetts Turnpike Authority decided to reconstruct a failed slope on the Turnpike near Charlton, Massachusetts (mile 79.3) that had a history of maintenance requirements due to continual failures caused by seepage and freeze thaw conditions. The cost and inconvenience for associated continual clean-up, temporary stabilization efforts, the threat to the traveling public along the Turnpike, and loss of private property made it necessary to address the problem. Aesthetic considerations were paramount in the final solution along this section of beautiful scenic highway.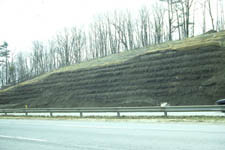 Working with Haley & Aldrich, Inc., the prime geotechnical engineer, Robbin B. Sotir & Associates, Inc. designed a vegetated reinforced soil slope system. This interdisciplinary team investigated the geotechnical considerations in designing an oversteepened reinforced slope with backslope drains to intercept the horizontal movement of seepage. The use of tensile inclusions from live branches and polymeric geogrids, made it possible to construct a highly steepened 4V to 1H vegetated earthen buttress slope. The vegetation installed was native materials collected from the local area, including willow, dogwood, alder and viburnum species. The most challenging aspect of this project was to develop a soil mix that would satisfy both the geotechnical requirements for slope stability and the agronomic needs for the vegetative components of the project.
The construction of the slope was completed in February of 1996. Since completion of the project, the slope has required no maintenance activities. It blends into the natural surrounding landscape and offers a variety of upland habitat value for birds, amphibians and small fur bearing animals.